Philip P. Godwin, Jr.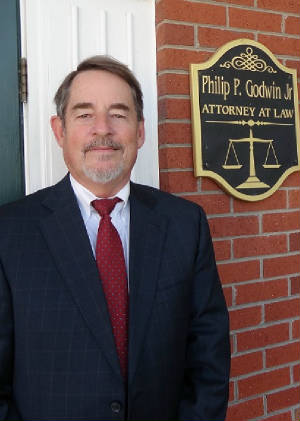 Philip P. Godwin, Jr. is a graduate of Gates County High School, Wake Forest University and the North Carolina Central School of Law. He has been in continuous practice since 1980. In 1989, he was admitted to practice law in the Federal District Court.
He has served as past president of the First Judicial District Bar, vestry of St. Mary's Episcopal Church, seventeen years as Gates County attorney, member of the North Carolina Advocates for Justice, North Carolina Bar Association, past member of Gatesville Volunteer Fire Department, contributor to North Carolina Highway Patrol Police Benevolence Society, member of North Carolina Sheriff's Association, Gates County Ducks Unlimited, Nixon's Ditch Fishing Club, Sunbury Investment Club, Wake Forest Deacons Club. 1
His hobbies include tennis, hunting, fishing, and enjoying the beach.
Thomas B. P. Wood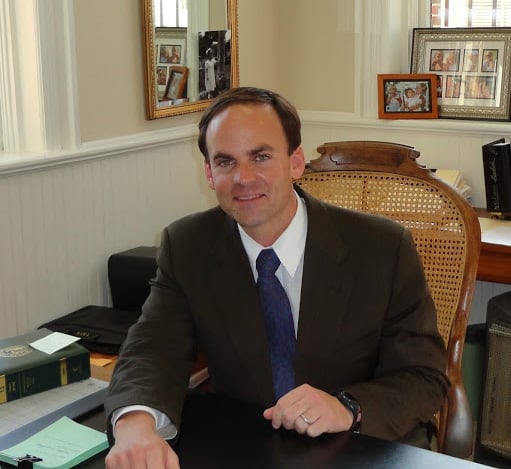 Thomas B. P. Wood was born in Raleigh, NC in 1974 and attended Ravenscroft School, Needham B. Broughton High School, later graduating from Episcopal High School, located in Alexandria, VA, in 1993. From there he attended North Carolina State University B.A. in History. Upon graduation worked for a software division of Charles Schwab and later decided to further his education by attending the Cumberland School of Law, from which he graduated with honors.
Mr. Wood has been practicing since 2004, initially in the practice area of Criminal Defense (Felony, DWI, Misdemeanors and Traffic) and later in General Practice, Civil Litigation and Workers Compensation. He also holds a license to practice General Contracting in the State of North Carolina.
Current Civic Involvement
Treasurer, 1st Judicial District Bar
Board Member, Economic Improvement Council
Vestry, St. Paul's Episcopal Church, Parish Life Chair, Edenton
The North Carolina Society of the Cincinnati
Executive Committee, 1st Judicial District Bar
President (Ex-Officio) The Cupola House Association
Married the former Adrian Thorpe Harrold of Rocky Mount, NC, with whom he has four children.
Enjoys coaching children's athletics, playing sports himself and spending time with family, preferably on the beach.